Tuesday, October 31, 2006
MAC MAC MAC.

so tired these days
that i kept goin' back to sleep AFTER washin'-up
bleahx.

had so much of mac today!
lunch was there with Rebecca & Pei Chin
then since i OT-ed till 11pm today
Pui San also bought mac goodies & we shared
hoho
shared a cab home with her
since she had already finalised her timesheet
& wouldn't be able to claim
haha

0 driftsSs..
gear uP!

Monday, October 30, 2006
DINNER + DRINKS!

back to work!
boo.
but it was quite a smooth day, yeapx!

went for dinner together with Rebecca, Qiuyi, Jiayun & Min Min
at the beppu ramen place @ suntec
had juz 2 chillies this time (didn't wanna kill myself with 4 like the last time!)
this dinner lasted for about 2hrs
before we left for xin wang hongkong cafe @ marina square
didn't have mango snow ice, cos we only had drinks + toast
took many dumb photos! haha



takin' a photo of takin' a photo! (Jiayun,bec,me)
EMO? (
Min Min
)

EMO?! (Jiayun, bec,me)



EMO AGAIN?!? haha(Jiayun,bec)
the left-profile theory - you look better on the left side of your face!

group photo at beppu! Qiuyi,Min Min,Jiayun,bec, me!



proudly designed usin' chilli sauce by Min Min, & presented by Jiayun & bec!
@

xin wang hongkong cafe

!



0 driftsSs..
gear uP!

Sunday, October 29, 2006
REBECCA'S 21ST BIRTHDAY PARTY - DAY 3

checked-out!
dragged our stuff all the way back home
gosh.
so many things, yet we still took the shuttle bus & train
there was one word written on all of our faces - SHAGGED.
haha
it's been fun
& i've made quite a few new friends, hoho

0 driftsSs..
gear uP!

Saturday, October 28, 2006
REBECCA'S 21ST BIRTHDAY PARTY - DAY 2

woke up & we had breakfast from mac!
cheers! heex
after which, we went escape theme park
this was my second time there only
(the first time was 3 years ago?)

we started with a spinnin' kite ride,
then a bumpy mini roller-coaster train ride,
the mini ferris wheel,
the pirate ship,
the spinnin' cup on a spinnin' giant disc,
& our favourite - wet 'n' wild (AGAIN!)
i remembered i loved it the first time i came too
hoho
=P

we then went back to the chalet
& prepared for the evenin'!
decorated the room a little more,
bathed, changed & wore our costumes
i was the PUMPKIN for the night, wahaha
imagine a 22 year old wearin' a costume that was meant for toddlers?
haha
the birthday girl was a kind-hearted witch (she claimed),
Qiuyi was a black cat,
& Min Min was a black widow (very convincin'!)
there was a buffet on top of bbq
& there were LOADS of people who slowly streamed in
my god.
there were about 60 over people (juz an estimation) who came?

played a few rounds of daidee before goin' to sleep
& i really suck at it!
had so much chivas mixed with sprite juz cos i kept losin'
oh man
haha



bec with the balloons! (credits to Anvia for pumpin' them!)
the buffet laid outside our room

oOoOoOo..



with the green witch - Qiuyi, Min Min, bec, me
with the
tin woman
!

the pretty, fruity birthday cake!


the pretty birthday girl with the cake!

another cake! from Yongmin & Huixian last night



bec with her mum
the witch & the pumpkin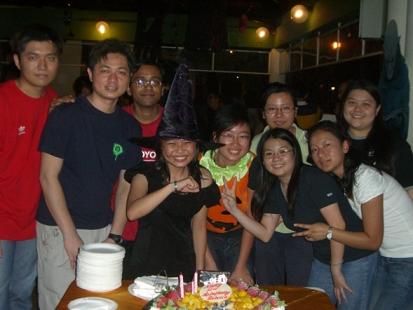 colleagues from J.D. Power!



another group photo with colleagues!
the crew for the party! haha

us with some new friends



a whole bunch of them!
birthday girls -
Jamie
&
bec

us with the two 28 oct babies!

0 driftsSs..
gear uP!

Friday, October 27, 2006
REBECCA'S 21ST BIRTHDAY PARTY - DAY 1

on leave today!
wahaha
& it's all for Rebecca's 21st birthday party cum halloween party this weekend!
=)



halloween-themed chalet! heex.




met up with Anvia, Qiuyi & the birthday-eve girl, Rebecca at jurong east
& we took the train all way to tampines
where we, as usual for every chalet, grabbed the remainin' stuff we needed for the bbq from tampines mall
then made our way to costa sands resort downtown east by cab
checked into our halloween-decorated room
hoho
there were black hairy spiders (one of them was even single-eyed), rubbery bats, spider webs ALL OVER (cotton la), gross posters, pumpkin basket, etc.
interestin', haha!
(luckily bec made me insist on gettin' the decorations, cos we were initially not gettin' them)

we wanted to go to the escape theme park in the afternoon
but it would only open at 7pm!
boo.
so we had a change of plans - decided to go cyclin' this afternoon instead of tomorrow
& to go escape tomorrow

Adeline came at this time too
(after we had kfc)
& we went to have ben & jerry's!

Adeline & Anvia didn't cycle so only Qiuyi, bec & me did
after cyclin', we went back to start the bbq
bec's mum & an uncle were there already
her mum is so friendly la!

Yongmin & Huixian came for tonight's bbq too
& we had a good time chattin'

at almost midnight, Min Min reached
with a mango cake that she baked! woo.
but it was really hilarious -
we wanted to give bec a surprise
by Min Min appearin' with the cake out of nowhere
while we were hidin' behind a wall, lightin' the candles
some strangers from another chalet room offered to help us plan the surprise too
haha
they took the cake, then a guy went over to look for bec
bec was confused of cos
a big group of them then came, dressed with scary masks & took photos with bec
so weird la, none of us knew any of them

after this strange encounter, we went back to the room
where bec opened her gifts that she'd received so far
Yongmin, Huixian, Min Min then left
leavin' Adeline, Anvia, Qiuyi, bec & me for the night!
we played a few rounds of uno before headin' to bed!

0 driftsSs..
gear uP!

Thursday, October 26, 2006
HUH?

i seriously couldn't remember what happened on this day
except reachin' home really early
then sleepin' really late
& gettin' up really early the next day
hmmx.

0 driftsSs..
gear uP!

Wednesday, October 25, 2006
LA LA LA.

a rather relaxin' day
hmmx
everyone really takes turns to be busy & slack
haha
guess it's my off-peak period now
(eh, better not say this too early!)

went ngee ann city with Yongmin, Qiuyi & Rebecca
Yongmin was huntin' for a gift for his brother
also returned our books!
managed to finish robin cook - marker late last night! whew.

we had dinner at kfc
a rather impromptu decision
all thanks to Yongmin for bringin' up the fact that it smelt really good when we walked past it
haha

0 driftsSs..
gear uP!

Tuesday, October 24, 2006
CRAB KING!

selamat hari raya!
it's a public holiday, woohoo.
& i went spageddies to work
$8/hr ok, wahaha.
was quite busy!!!
guess who i saw while at work?
Hiroshi (colleague from J.D. Power), his wife & his little daughter!
he was surprised to see me too, haha
took his order & billed him! hoho

Henry came down to spageddies to get somethin' too!
long time no see!
=)

knocked off at 6pm
then went Wei Wei's house to meet her
waited for Keith to pick us up
& have dinner at the famous crab king at ang mo kio!
we had satays, bbq chicken wings, fried buns, crabs beehoon & chilli crab!!!
*BURP*



this is the place!
taken so badly! cos my hands were dirty!

close-up of the crabs beehoon!



WE'RE DONE!



0 driftsSs..
gear uP!

Monday, October 23, 2006
NO MOOD TO WORK.

what a longgggggg & blueeeeeee monday
gosh.
how did i manage to survive through it, i wonder
Rebecca was on leave! boo.
it's a 2-day week for her, haha
for me - it's a 3-day week! ain't so bad too
heex.

0 driftsSs..
gear uP!

Sunday, October 22, 2006
DUM-DEE-DUM.


and i'm juz down
you left me with a note without a sound
i figured i muz have been such a child
you'll never know how much i've been around
how my heart juz frowns if you're down
i'll be your teddy bear, i'll be your clown
i'll take you round and round
and if you don't mind i could be your standing ground
even if that means i'd drown
and baby, that'll be my one last vow



worked at spageddies!
yawnx.

0 driftsSs..
gear uP!

Saturday, October 21, 2006
WORLD TRADE CENTER.

第一次看着你 就为你心动
聪明的我 怎能让你走
第二次看见你 我竟然失控
是我的错 请你原谅我
第三次看见你 想要告诉你
我真的爱你 是真的爱你
第四次看着你 我有些要求
希望你能够 安安静静的聆听

一. 让我保护你
二. 让我照顾你
三. 所有的要求不能当作游戏
四. 接受这命运
五. 永远不分离

那最后一个一定要说你愿意
wanna be your lover, i wanna be your man
我只要你开心多一点
can you be my lover, don't wanna be your friend
给你幸福到永远

第一次看着你 就为你心动
聪明的我 怎能让你走
第二次看见你 我竟然失控
是我的错 请你原谅我
第三次看见你 想要告诉你
我真的爱你 是真的爱你
第四次看着你 我有些要求
希望你能够 安安静静的聆听

one. 让我保护你
two. 让我照顾你
three. 所有的要求不能当作游戏
four. 接受这命运
five. 永远不分离

说你愿意
wanna be your lover, i wanna be your man
我只希望给你多一点
can you be my lover, don't wanna be your friend
给你幸福每一天
因为我 wanna be your lover, i wanna be your man
我只要你开心多一点
can you be my lover, don't wanna be your friend
给你幸福到永远

你说你害怕 因为受过伤
不需要害怕 因为我不是他

wanna be your lover, i wanna be your man
我只希望给你多一点
can you be my lover, don't wanna be your friend
给你幸福每一天
因为我 wanna be your lover, i wanna be your man
我只要你开心多一点
can you be my lover, don't wanna be your friend
给你幸福到永远


went to town with Vivi!
had ajisen ramen at 4pm+
which was our lunch/dinner, haha
caught world trade center too
the 911 event that happened 5 years ago
it was based on the true accounts of 2 survivors - Will Jimeno & John McLoughlin
kidda disturbin'
but really amazin'

remember wednesday's incident - a train hit a man at chinese garden station?
Rebecca was on THAT train & what's more - in the FIRST cabin!
she said she felt the train went over somethin'
(she even thought one of the wheels had fallen off, ha!)
but no one had any idea what was it
the train then ceased service & she had to take a bus home instead
it was only much later that she learnt that it was a MAN that the train had run over
OMG. OMG.
why another train accident?

i wasn't in singapore durin' national day this year
& i won't be around again, durin' the comin' christmas
will be flyin' to bangkok for 3 days with my family + my fourth uncle's family!
it was a rather sudden decision made
this will my parents' & my sister's first time on an aeroplane!
(while it's the 3rd one for me! heex.)
wow, travellin' so much (relatively) this year!
august - tokyo
november - gentin' highlands (hopefully!)
december - bangkok
i'm like so freakin' broke la!

3 driftsSs..
::
this is a cover isn't it?
wat's the one in english.. haha, forgot..

qing::
brian mcknight's back at one?

::
wa..so fun!!! can go bangkok...mux take many many pics back for me to see k!! i hope it wont be another shopping for frens' gifts' trip again this time...pls enjoy some peace n relaxation! :P

gear uP!

Friday, October 20, 2006
GATHERIN'!

quite a busy day at work!
rushin' this & that, but at least i didn't have to OT!
=)

had a gatherin' with 2 of our ex-colleagues - Adeline & Anvia!
haven't seen them for some time
really miss those times when both were still workin' in this company
hmmx.
there were 7 of us who went to meet them - Kelvin, Pui San, Esther, Cathy, Kelly, Rebecca & me!
had a 8-course dinner at an eatin' place at tanjong pagar
then went for drinks + music at 弹唱人 - a really ulu 民歌餐厅 near the eatin' place
the singers sang quite many of my requested songs! woo.
秋天别来, 一千年以后, 黑色幽默, 追!
heex.

& guess who i saw there?
Hweenee!!! my 师姐!
she is workin' part-time at this place
what a small world indeed!

0 driftsSs..
gear uP!

Thursday, October 19, 2006
FIERCE!

ahh, what a day.
quite a frantic day at work
also had this meetin' which was sOoOoOo EXCITIN'
omg. fierce.

OT-ed again
everythin' juz came in at the same time
what the.
=/

0 driftsSs..
gear uP!

Wednesday, October 18, 2006
COOL CAB!

there is somethin' that i
really really really really really really really really really
REEEEEEAAAAAAALLLLLLLYYYYYYYYY..
hate.
& that is -
people who lean on grab poles in the MRT!
GRRRR.
sometimes i'll purposely stick my finger (with the longest, sharpest nail) out while holdin' on to the pole
so that when they, for a moment, lift their nua bodies off the pole
but lean back again.. *OUCH*
muahaha.
not my fault!
i have the right to hold on to the pole!
& is it wrong to have the habit of stickin' one finger out? =P

woo la la
i OT-ed again
=xX

hiakx.
my leave for next friday has been approved!
yippee.
takin' it with Rebecca
=P

took a really cool cab home!
it was less than 10 days old
accordin' to the cab driver
& the driver himself was very young!
chatted with him throughout the journey
haha

2 driftsSs..
::
yeah.. i do that too.. fingernail no fingernail, i'll poke one finger out (guess which one.......) if they still idiot and lean against the pole (and my hand) then i'll either wriggle wriggle my fingers.. or pluck my hand out hard and then stare at them when they look
yawn.. stupid ppl.. but i havent met them in a while la.. the rude singaporeans blog prolly embarrassed many of them

qing::
wahaha, juz as evil too!

gear uP!

Tuesday, October 17, 2006
KTV!

WHEW!
left office at 6pm sharp
wahaha

met up with Vivi & Ah Du at lot 1 to SING (!!!) at kbox
Fabian came & joined us too
we sang till 130am lo
-.-zZz
but we were really behavin' like mad monkeys
hoho

3 driftsSs..
::
wa...suddenly u very close with fabian hor..haha...no comments.. :P

::
wads is the stay alive abt huh?.

qing::
pig:: haha, hai hao la..

movie-crazie:: a dumb dumb show about a dumb dumb video game..

gear uP!

Monday, October 16, 2006
MONDAY. HAZE.

月光下的你沉默而孤单
挺直的脊梁和瘦削的肩膀
眼里的迷惘
影子的苍凉
夜雾 茫茫
可以对着你一整个晚上
什么都不说数着呼吸幻想
想着真实的你 到底怎样
怎么坚强
但爱 轻悄悄的 追来的不露痕迹
化成一件外衣
披上眼前的你 我思念到了底
就一直逗留在你心里
因为我遇见你像一场虚拟的游戏
我认识你也只是网路上一段讯息
你若不在 我的脑海
就一片空白
因为我不停猜想你的心思你的脸
模拟着和你见面走在一起的画面
我会等待 你能接受
这么爱


oh man,
i'm an OT-freak!
worked till 11pm again
doin' non-urgent stuff
WHY?
don't know.
no point goin' home early anyway

this haze has worsened
i don't care -
i'll still be goin' cyclin' & stuff!
=P

feels so good to have my hair cut!
ah, shiok.

0 driftsSs..
gear uP!

Sunday, October 15, 2006
PHOTOS!

photos from yesterday's kayakin' + sushi day!



gulp gulp!
this is me on the kayak!

me + Vivi!



Fabian with Vivi!
all of us!

bein' capsized by Fabian! grr.



on the bus leavin' sentosa
woo, serious discussion at

suki sushi

?




worked at spageddies
nothin' much happened
still as hazy
yet there were still so many people comin' to eat

0 driftsSs..
gear uP!

Saturday, October 14, 2006
KAYAKIN' + BEACH VOLLEY!

some photos from last weekend..

07 oct (last sat):: cyclin'!



Vivi, Mei Shi, Seok Chuan & me!
Vivi

&

Mei Shi

@

mac

!




08 oct (last sun):: Jiayu's 21st birthday bbq!



this is the birthday girl, makin' her speech, hoho


as for this weekend,
went kayakin' + played beach volleyball + had sushi
with Vivi & Fabian!
woohoo, shiok.

we met up at 2pm at harbourfront
& thanks to vivo city, the station was flooded with people!
gosh.
even we went in to take a look & see for ourselves what's the hype about
kidda regretted goin' in, cos we were almost lost inside this gigantic mall
took some time to get out & find our way to the bus interchange
took the bus to sentosa!

we had a short kayakin' session
then borrowed a volleyball to play by the beach
we then joined some people to play 2 matches of beach volleyball!
wahaha, i could hardly play
but it was fun still!
& thanks to those new friends we made (while playin' volleyball)
i discovered one really nice song by JJ!
wootx.
it's an old song, yet i didn't have it
ah, in love with that song~

we went separate ways after leavin' sentosa in the evenin'
Fabian went home to get some things settled,
while i went Vivi's house to take a shower
brrr, i really can't stand bathin' in cold water

feelin' REALLY hungry,
we went suki sushi @ cineleisure
(knowin' it's opened till late) for dinner!
Fabian managed to come & join us too

missed my last train!
=/
took the night rider home
was so tired that i went to sleep immediately after i got home & showered
whew.

0 driftsSs..
gear uP!

Friday, October 13, 2006
13TH - FRIDAY

friday the 13th
how unlucky was your day?
mine went ok
unless you think havin' to OT on a friday is darn bad luck
haha
well i did
& i OT-ed till midnight!
cleared most of my stuff
whew

haix.



sometimes, you juz don't know what you really want.



0 driftsSs..
gear uP!

Thursday, October 12, 2006
ARE YOU..

my nightmare came true again
=(
seems like i juz can't be more careful?
goin' towards the end-of-year,
which is goin' to be the BUSIEST period for the year
gosh.
hope i'll come out alive

are you defensive or are you juz protecting yourself?
are you stupid or are you juz being honest?
are you not assertive or are you juz being nice?
are you lacking self-confidence or are you juz being modest?
are you not having your own stand or are you juz easy-going?
are you lazy or are you planning for something bigger?
are you boring or are you juz being loyal?
are you stingy or are you juz being spendthrift?
are you trying to impress or are you juz being diligent?
are you quiet or are you juz thinking things through?
are you having no drive or are you juz being contented?
are you disrespectful or are you juz being yourself?

who knows?

0 driftsSs..
gear uP!

Wednesday, October 11, 2006
NIGHTMARE.

my nightmare has come true again.
i guess for every data processin' person,
the greatest nightmare must be to - RE-FINALISE DATA

OT-ed again
this time i really had stuff to do
sighx.
if not i could have gone out
=/
anyway, had dinner at burger king with Pui San
& we sat there & chatted till 10pm!

0 driftsSs..
gear uP!

Tuesday, October 10, 2006
CURRY!

had curry at the new killiney kopitiam
with a bunch of colleagues durin' lunch
so yummy, abit oily though

another ok ok day at work
OT-ed till 11pm even though i didn't have much to do
haha
nothin' to do at home anyway!

J.D. Power will be havin' its annual dinner & dance at rasa sentosa's waterfront lawn!
it's a bbq beach party to be exact
date:: 17 nov'06
time:: 1830h till midnight!
woohoo.
& my manager, Andrew will be holdin' his weddin' on 25 nov'06!
wahh.

1 driftsSs..
::
u got lyk someone izzit?

gear uP!

Monday, October 09, 2006
MONDAY.

第一次
当你看着我
我没有开口 已被你猜透
还是没把握
还是没有符合 你的要求
是我自己想得太多
还是你也在闪躲
如果真的选择是我
我鼓起勇气去接受
不知不觉让视线开始闪烁
喔 第一次我
说爱你的时候
呼吸难过 心不停地颤抖
喔 第一次我
牵起你的双手
失去方向 不知该往那儿走
那是一起相爱的理由
那是一起厮守
喔 第一次吻
你深深的酒涡
想要清醒却冲昏了头
喔 第一次你
躺在我的胸口
二十四小时没有分开过
那是第一次知道 天长地久
感觉你属于我
感觉你的眼眸
第一次就决定 决不会错


quite a smooth day at work
whew
productive too! =)




你知道吗 爱你并不容易
还需要很多勇气。。



0 driftsSs..
gear uP!

Sunday, October 08, 2006
JIAYU'S 21ST BIRTHDAY BBQ!

worked my usual 1130am-6pm shift at spageddies
nothin' interestin' happened!
-.-zZz

met up with Amanda & Huiying at heerens
where they were gettin' gifts for Jiayu, hoho
Sandy then picked us up & drove us to Jiayu's birthday BBQ!
Wei Liang was in the car too
the 21st birthday party was held at a bbq pit near Jiayu's house
saw some new faces from munchie monkey
remindin' me again that i'm gettin' older! boo.

the food was good & had fun crappin' too
haha

it's Yih Hong's 22nd birthday today too
happy birthday, my old friend! hoho

0 driftsSs..
gear uP!

Saturday, October 07, 2006
HAZY.

went east coast park with Seok Chuan, Vivi, Meishi!
but only Seok Chuan & i cycled
the other two jogged + roller-bladed
the park was rather deserted, thanks to the haze!
guess not many were as stupid as us to cycle in such a hazy day
wahaha
no falls/ injuries this time!
whoops. =xX

had an early dinner at mac, heex
then took a cab down to town
(too nua to take any other transport)
Seok Chuan then left to meet her friends
the 3 of us then walked around town
& finally watched a dumb horror movie - stay alive at cathay cineplex
it was my first time catchin' a movie at this theatre
wasn't much of a difference from other cinemas i muz say
the show was forgettable
not exactly VERY scary, but half the time, Meishi buried her face into my shoulder
hahah. =xX
bumped into Yongmin & Huixian with their friends!
hoho
Vivi finally saw Yongmin face-to-face!!! haha

we headed to sakae sushi @ the atrium for supper!
i haven't touched sushi ever since i came back from tokyo ok
but it was near last order, so we didn't have much anyway

the haze is REALLY bad!!!
*choke*

0 driftsSs..
gear uP!

Friday, October 06, 2006
J.D. POWER COMPANY EVENT!

the past 2 days were merely WORK & nothin' else
decided not to blog on them
but today was kidda different
it's a friday,
but the entire J.D. Power didn't have to work!
(err..actually not all, some managers still worked)
anyway, we went on an EXPEDITION!!!
(so-called)

we gathered at the bus-stop in front of fullerton hotel
early in the mornin' at 8am! yawnx.
(even earlier than reportin' to work)
for the first time, you could see all these office guys & ladies
in their casual, sporty wear, haha

a chartered bus then came & picked us up
goin' to we-had-no-idea
throughout the journey we were all guessin'
cos no one told us what was this expedition gonna be like, & where was it
it turned out to be - singapore orchid country club! (located at yishun)

we were split into 3 groups & went to various stations for team-buildin' games
the theme of this so-called expedition was team-buildin' obviously

the first game that my group played was 4-by-4 tic-tac-toe
lesson learnt:: never be so caught up in competin' with people & forget the objective of workin' towards the same goal together.

the second game was holy temple (did i get the name right?)
a thin pole rested on our index fingers (2 lines of us)
& we were supposed to lower the pole to the ground
it was really tough!
lesson learnt:: a person blamed for somethin' may be encounterin' problems outside his realm of control that caused that somethin' to happen.

the third & last game before lunch involved more runnin'
we had to run to a ring where there were alphabets randomly scattered
then we had to touch the alphabets in sequential order
& run back to where we started
lesson learnt:: maximise your resources. one person can never handle too many things at one time - team members offer help!

we then went back up to the ruby suite
where we had a really inspirin' talk by David Lim - leader of singapore's first mount everest expedition team
quotable quotes:: the best teams do not have 100% of everythin', they use 100% of everythin' they have.

lunch was quite sumptuous
we played a really hilarious pirates game after lunch
captain salute, lighthouse, man overboard, eat your grub, row your boat!
muahaha.

we were then again split into 3 groups after lunch for 3 more games
this time they were all indoor

the first game was a thinkin' game - somethin' like cluedo + sudoku combined
my team was the only team who managed to crack the puzzle!
woohoo.
lesson learnt:: active listenin'!

the next game was system machine
each of us was assigned a number
& we had to pass a few balls in a certain sequence - ascendin'/ descendin'/ even numbers only/ etc.
required some concentration & focus
lesson learnt:: schedulin' with people & co-ordination between various people

the third game was called bullring
each one of us had to pull a string
& all the strings were connected in the middle by a ring
we had to pull the ring up to support a ball & move it to another spot
this game was kidda fun but had to focus so much!
lesson learnt:: everyone in a team matters!

the final round-up game was runnin' through a turnin' rope
kidda thrillin', haha
we all had a souvenier home - the book, mountain to climb, written by David Lim himself!

had dinner at lek LERK thai @ marina square
(edit:: thanks huh, becky. haha! =P )
with Rebecca, Pui San, Qiuyi
we planned to play with lanterns & candles tonight
but the haze was REALLY bad,
so we decided not to add on to the pollution & stay indoors!
had drinks at xin wang hongkong cafe

0 driftsSs..
gear uP!

Tuesday, October 03, 2006
...

had a department meetin' early in the mornin'
-.-zZz
obviously about you-know-what
helped Adeline send out her farewell message
which she sent me last night
almost everyone was shocked
well duh, it was really sudden
=(

0 driftsSs..
gear uP!

Monday, October 02, 2006
HAIX.

=(

Adeline has left us.

=(

she handed up her resignation letter today
& we all thought we still at least had one last month to work with her
(since it's one month's notice)
BUT,
they implemented a new policy - which was to leave the very next day
WHAT THE?!
anyway, it was good in a way too
you get paid without havin' to work that one month
haix.
one by one, first was Anvia, now Adeline
it's juz Rebecca & me now..
bec, you can't leave, please..
gonna miss bai xiao jie so much
she's always makin'/ bringin' breakfast for us
always so gentle, cool & blur!
she's worked longer here than any of us in DP
always so patient in teachin'
& workin' so hard for the company

so sudden
from tomorrow onwards, i won't see Adeline in the office anymore
=(
what makes someone so determined to leave?
the lack of appreciation for the amount of effort put in?
i guess so.
i believe appreciation is an important source for motivation
imagine workin' so hard, OT-ing almost everyday
& all you get is only
"why can't you complete this in half a day?"
or you get scoldin' when you make a slight mistake?
we ARE humans, & humans DO make mistakes at times
but in this company, there's absolutely NO ROOM FOR MISTAKES
this is the cruel, sad truth
Adeline, i will miss you callin' me QING MEI!
take lots of care..

0 driftsSs..
gear uP!

Sunday, October 01, 2006
THE RETURN.


i haven't disappeared from this world..




never took such a long break from bloggin' before
hmmx
it's time to let you guys into my life again
=)

a summary of september!

- took half-day leave on a friday to help my buddy, Yongmin, decorate a downtown east chalet for his girlfriend, Huixian's birthday! he rented a mini cooper too, woohoo! he pumped SO MANY balloons & i tied SO MANY balloons until we almost dropped -DEAD-. happy belated birthday, Huixian!

- after that half-day leave, i had to come back on the followin' saturday with Rebecca to work! juz too much to handle, sighx!

- aim to go cyclin' every week! really enjoy it. but fell from the bicycle the last time i went (with Fabian)! oh man. hurt my left palm + had many little cuts on my right knee. but recoverin'!

- i'm a CONFIRMED staff of J.D. Power & Associates!!! already been workin' there for 4 months plus! long, long way to go! have a lot to work on. so glad i have Syam! i love him! the best manager really.

- still workin' at spageddies, every sunday definitely & sometimes saturday night. Sareem, a project manager from my company, came & i took her order! hoho, she was so surprised la. oh, & a few weeks ago, a customer gave me $5 tips! WAHOO! that's a total of $30 so far in spageddies! hiakx.

- met up with Mei Qing (hoho, same name as me la!), who is workin' part-time at royal sportin' house, also met uncle Jerry to buy mooncakes from him & Huiyi! for dinner + a movie - john tucker must die. met up with Sharon too!

- some dinner outings:: with Yongmin, Rebecca, Adeline, Pui San to have ma la steamboat! with Rebecca, Qiuyi, Jiayun to have seoul garden, with Adeline to have pizza hut!

- had a gatherin' with Anvia to celebrate her birthday & also had a farewell dinner + ktv for Serene. also had a ktv session (supposed to be a movie session, but i checked the wrong timin'! oops.) with Vivi, Wee Perng, Zhi Wei & another one with Rebecca & Qiuyi!

- with my family:: went for my grandma's birthday buffet party with my parents (i drove!). they showed everyone there my graduation photos, pengx. my sister is workin' doubly-hard again with the openin' of the new soup spoon branch at market street. & she failed her drivin' test the second time, cos she mounted a kerb! she'll pass the next time!

- Yongmin & i brought our 2 china colleagues - Cathy & Kelly out to rangoon road yesterday for bak kut teh! hoho. but sorry i overslept! OOPS.


that should be about it
haven't missed out much bah?
& how's life for YOU?

happy children's day to my LITTLE FRIENDS!
for eg., Rebecca + Kai Feng!
hoho!

0 driftsSs..
gear uP!