Thursday, August 31, 2006
BREATHER.

i've finally finished most of the urgent stuff
whew
didn't have to OT finally
for the past 3 days, i've been workin' till 11pm everyday!
gosh.
left the office rather early today!
to have dinner with Rebecca & Adeline at swenson's @ marina square




moments like this..



0 driftsSs..
gear uP!

Wednesday, August 30, 2006
RAIN!

the TOUGH week still continues..

whew
until these 2 studies (that i'm workin' on) end
i'm never gonna get a break
their deadlines are freakin' TIGHT!

lunchtime was pretty entertainin'
haha
Rebecca, Adeline, Wei Leng & i lunched-out at my place @ circular road
then it started pourin' SO heavily
& we didn't bring umbrellas out!
there's no way we could get back to the office
(& i had so much work waitin' for me!)
waited for a while, not knowin' what to do
then managed to buy one umbrella & borrowed another
haha

& as usual
i worked till OVER 11pm
went out for a mac dinner with Rebecca
before continuin' our work
shared a cab home with her =)
feelin' quite good
as i'd completed what i was supposed to do!
(hopefully, without mistakes la)




好想和你去淋一场吻雨
狼狈中有一丝甜密



0 driftsSs..
gear uP!

Tuesday, August 29, 2006
DYIN'.

the tough week continues..
been makin' quite a few mistakes recently
haix.
why am i so careless?!
i could even ta-bao the wrong no. of food durin' lunch
was supposed to get 4 packets of beehoon
but i bought only 3
& realised only when i was givin' them out
PIANGX.
where is my mind?
out wanderin'..

OT again obviously
damn irritatin'
i was actually very free the entire afternoon
cos i was only waitin' for things to get reverted
then? at 630pm+, things started comin' back
so i only got busy from then onwards
till 11pm, AGAIN.
with Adeline
sighx.

Fabian came to meet me
& we took a cab home together
we had no energy to discuss my insurance policies!

Rebecca on mc today
=/
=\
=(




double sianx



0 driftsSs..
gear uP!

Monday, August 28, 2006
COMPANY ORIENTATION.



蔡依林 - 开场白
再见面 已经是朋友了
我们就这么单纯
瞎聊着彼此说以后
时间过了 学会珍惜了
原来最初的快乐并不是我们要的
终于能够坦白说着
我当时的脆弱
是唯一的一次
不留着遗憾的
简单结束了陌生
我们微笑了 也都不躲了
这单纯的坦诚
就这样,我们为彼此推翻着
不扰了
我们都笑了,时间停了
我们珍惜这一刻
放下累积的负荷 卸下沉默
学会了,不保留
再见后真的是朋友了
我们都不再单纯
也会笑着看以后
时间过了,也更珍惜了
原来当时的快乐
仍在你我记忆中
终于能够坦白说着
我现在不寂寞
是全新的一次
再也没了遗憾
简单地回应着伤痛
我们微笑了,也都不躲了
这单纯的坦诚
你好吗?多么默契的开场白
我笑了
我们不走了,不再尴尬了
不回头凑理由
希望我们从此都真的快乐
说好了,不说走




monday BLUES
i'm blue dabadee dabada dabadee dabada..

had a company orientation by mcgraw-hill
(yeah yeah, you got it - the textbooks company! haha)
actually it has many business units under it
(J.D. Power is one of it!)
not juz printin' texts!
haha
70% of those who went were from our company, haha
so many new recruits (includin' me!) recently
lunch was provided - japanese food!
& it was really YUMMY!

rushed back to the office with Wei Leng
as we knew we had a lot of work to do today!
not juz today i guess - it's gonna be a really TOUGH week
i can foresee, haix.
indeed, i worked till 11pm today
OMG.
actually i was enjoyin' my fillet-o-fish (or is it fish-o-fillet? i never get it right)
& listenin' to my mp3s
shiok.

Felicia is right
i always 走 a lot of 冤枉路
haix.
seems like everythin' i do has to be done twice
so used to re-work

took a mercs cab home!
woohoo




sianx.



0 driftsSs..
gear uP!

Sunday, August 27, 2006
18TH BLOOD DONATION + KTV!

was flippin' through some old stuff & found this::





i almost forgot i was on straits times before! haha
26 june 2005 was the date
thanks to munchie monkey of cos
hoho

18th blood donation today!
& it was as smooth as a baby's skin! (EH?)
haha
Rebecca accompanied me to HSA
where they were havin' an emergency blood exercise
piangx
how lucky can we get
blood pressure was good, iron level was good!
could donate 450ml (the big pack!) of blood
wahaha!
ok, i sound sick.
=xX

we then went to meet Adeline at orchard
ktv @ partyworld! woohoo =)
Pui San joined us later too



Rebecca, me, Adeline! (so dark!)




had dinner at suki ramen @ cineleisure after ktv
Adeline then left since her friends were sendin' her home
we saw Rebecca's friends - Qiuyi & Jiayun
& the 5 of us took neoprints together! haha
classic la

had drinks at mos burger @ jurong point
with Rebecca & Pui San
i didn't want to go home early!




no good? really?



0 driftsSs..
gear uP!

Saturday, August 26, 2006
SPAGS.



took this photo with Seok Chuan a few days ago, at espirit @ bugis junction - COOL! haha!




worked 3pm-11pm at spaggedies!
there was this table of ang mohs
around 16 of them
& they wanted to split into over 10 bills!
-.-zZz
jammed my cashier totally

so many are leavin'
so many newbies
gettin' sianx, sighx
but i really still enjoy the service line
that's the reason why i'm not leavin',
YET.

0 driftsSs..
gear uP!

Friday, August 25, 2006
DP DINNER!

what a day!
it was quite a bad mornin'
gotta teach 2 new staff THAT stupid process
(this was my second time teachin' but i still suck at it)
& even had to do re-work
sighx
but kidda used to re-work
over here, i learn best when i make mistakes
then i'll be reminded! =/

had a DP department dinner today!
decided to make it a monthly event - every last friday of the month
we would go out & have dinner together
haha
this meant that all of us can't do OT on that friday! =P
i was sort-of the organiser for this first time
booked a table for 8 at muthu's curry @ suntec city
but 9 of us turned up (woah, i really didn't expect the attendance to be so good!)::
Felicia, Andrew, Gokul, Adeline, Wei Leng, Cathy, Erwin, Rebecca, me!
only 2 were absent (one on MC, the other on leave)
wahaha



peelin' the giant, rock-hard prawn! hoho




went up to watch the laser show at the fountain of wealth again
Felicia, Cathy & Gokul then left
the rest of us bought drinks from xin wang hong kong cafe
& went to the esplanade!
watched a guy performed - very nice! =)

finally brought my tokyo trip photos to show my colleagues
hoho
THERE ARE JUZ TOO MANY PHOTOS!!!
*faintx*
i don't even know what should i post
-.-zZz

0 driftsSs..
gear uP!

Thursday, August 24, 2006
NEWTON CIRCUS!

was kept occupied the whole day again
ahHhHhHhHhH..
never-endin' list of things to do
*sighx*

met up with Seok Chuan & Vivi for dinner!
finally it's not in town
but at the revamped newton circus!
it's very much cleaner now

0 driftsSs..
gear uP!

Wednesday, August 23, 2006
FREAKIN' LONG DAY

it was a REALLY BUSY day for me!
all my projects have picked up pace
& there are ENDLESS things to do
*sigh*
life isn't gettin' any better
but i'm enjoyin' it!
wahaha =P

the back of my left shoulder aches so bad!
muz be my sittin' position
that's the problem with starin' at the computer screen for over 10 hours!
gosh.

did OT today, ha
juz had too many important things to clear
worked till almost 11pm! woah.
took a cab home of cos
what a LONG LONG day!




when can we watch 'click'? hmmx.



2 driftsSs..
::
hey..think yih hong n andy wanna watch 'click' too..we find one day we all go watch together la!

qing::
oops, i've shuo hao to watch with a friend liaox lei.. paiseh..

gear uP!

Tuesday, August 22, 2006
THREE MONTHS!

i've been in J.D. Power for 3 months already!
wah..
but it's gettin' more stressful
i've become more careful, more particular after these 3 months
haha
did my self-evaluation form
gonna be out of probation soon!

had lunch at burger king with Rebecca!
then went out for dinner with her too - food terrace @ suntec city
& finally - mango snow ice!
woohoo, haven't had that for quite some time
still very yummy! =P

0 driftsSs..
gear uP!

Monday, August 21, 2006
DARN SPICY..

forgot to mention on the 15th
that i'm no longer a p-plate driver!
wahaha
but my drivin' skills still suck of cos
=xX

Felicia was on leave today
& Syam was finally back! =)
lunch-ed out at myplace with Rebcecca,Adeline,Yongmin
left at 6pm! wahaha
walked around suntec city to search for gifts + cards
then had dinner at 别府 - the ramen place where you can choose the level of spiciness you want!
Rebecca & i tried 4 chillis-level
& i was strugglin', haha
freakin' SPICY la!

went up to watch the fountain of wealth from the top
she's the one..

0 driftsSs..
gear uP!

Sunday, August 20, 2006
BILLY *GASP* BOMBERS AGAIN!

it's back to spageddies!
haven't worked there for so many weeks!
still feel good servin' guests
i really still enjoy the service line!
but gettin' lazier & lazier
muahaha.

met up with Sharon & Yih Hong
at jurong point (this ulu hole again!)
had dinner at..
BILLY BOMBERS again!!!
*faintx*
i juz had it 2 days ago
-.-"
also gotton the photos that we took in tokyo!
YIPPEE! finally!

0 driftsSs..
gear uP!

Saturday, August 19, 2006
some OVERDUED-like-mad photos!


BIRTHDAY CELEBRATION WITH COLLEAGUES @ BILLY BOMBERS! - 3 AUG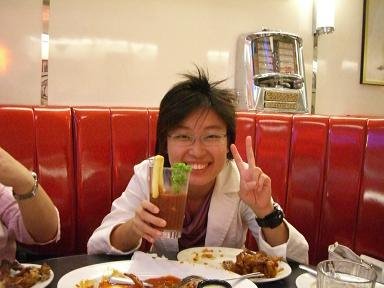 & this is me - the happy girl who juz turned 22!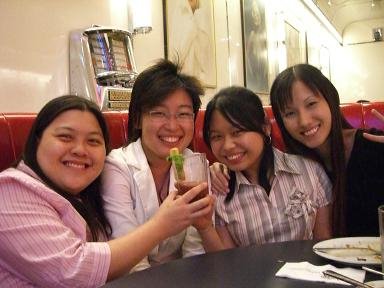 Pui San, me, Rebecca, Adeline @ billy bombers!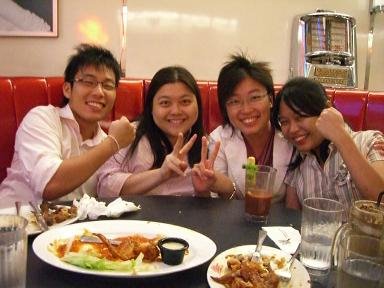 Yongmin, Pui San, me, Rebecca!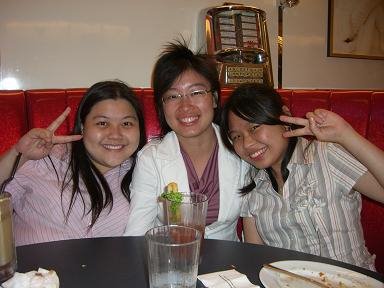 it's us again!



a group photo!



rootbeer cheers!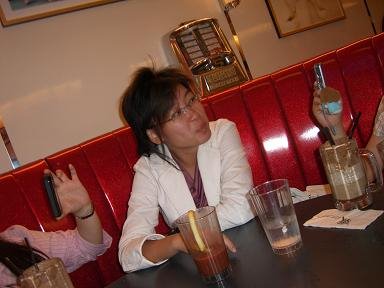 so many cameras aimed at me..



happy me with a pretty cake!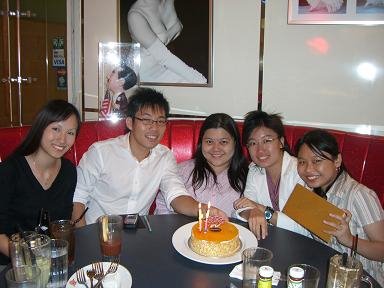 another group photo!



blow!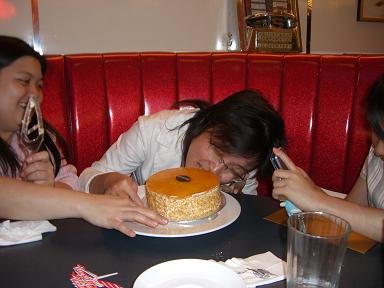 sabo-ed! gotta pull the candle-stand out of the cake usin' only my mouth!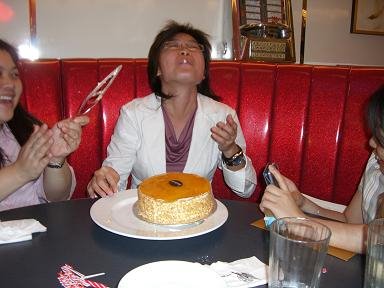 ah, it's out!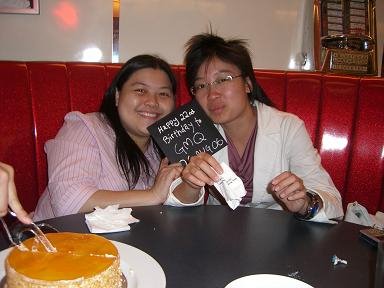 Pui San & me with my birthday card! heex.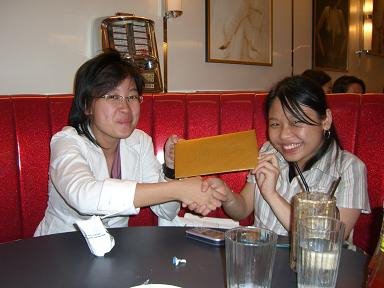 presentin' to me.. another birthday card! =)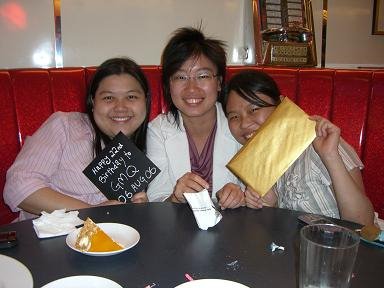 it's us again?!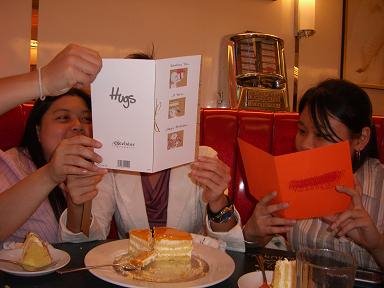 busy readin' cards..haha..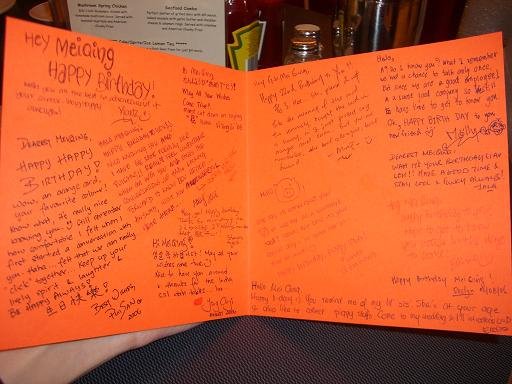 the card where the DTP people signed - so many of them! wow.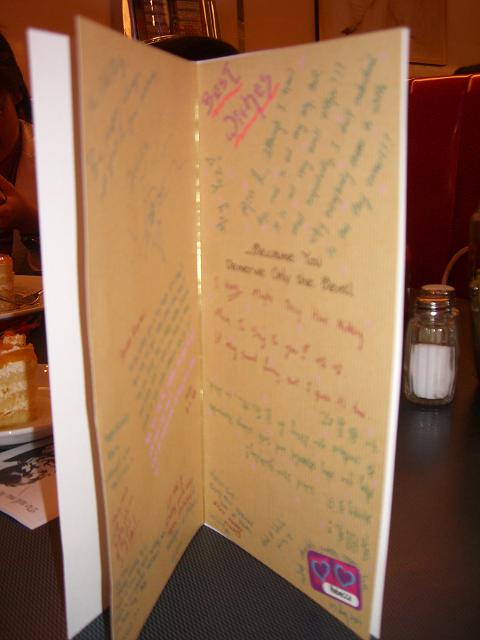 the card from MY department! heex!
COMPANY PHOTO! - 3 AUG

J.D. Power Asia Pacific family!



Rebecca, me, Molly, Gerald!




WITH SEOK CHUAN!
(it was her graduation day!)



we've both graduated! office ladies now, haha!



0 driftsSs..
gear uP!


MICHELLE'S BABY PARTY + I-NANO!

met Seok Chuan & we went to Michelle's baby's little gatherin'!
she has given to a baby girl - Alvera Ong Xin Ru
(wah, what an english name!)
on 2 july this year
it was held at changi sea view chalet - so ulu!
but as the name suggests, it really faces the sea!
pretty!
& we saw many HUGE cargo ships cruised past, haha

we then went bugis to meet Vivi
& they gave me a i-nano mp3 player!
*gasp*
now i have 2 mp3 players - 3gig of music on the move!
wow.
thank you girls! =)

0 driftsSs..
gear uP!

Friday, August 18, 2006
WILBER!

friday! jeans day! =)
quite a smooth day at work
lunch-ed out with Rebecca, Adeline, Wei Leng
hoho, DP is gettin' more united
=P

rushed off with Rebecca at 6pm on the dot!
wahaha
we had a date with wilber pan wei bo! hoho
Rebecca had tickets to his mini concert at NTU
we were lost in NTU cos we had no idea where was LCK theatre!
haha
so we were a little late
& there were SO MANY people! gosh.
lan bo (the super zai dancin' instructor) was there too!
it was a very short concert - only an hour!
maybe cos wilber wasn't feelin' well
he didn't sing the songs i wished he would sing! aww.

had dinner at billy bombers @ jurong point
haha, we both couldn't believe we were spendin' a friday night at BOON LAY
HAHA.




像这样触电就够我快乐溶化!



2 driftsSs..
::
This is very interesting site... » »

::
Very cool design! Useful information. Go on! »

gear uP!

Thursday, August 17, 2006
FAST-FOOD CRAZE!

had an internal meetin' today
we'll be movin' our office to temasek towers soon!
& we'll be double as high as now
woah, the view will be good! =)

another rather busy day
carried on from yesterday
stayed till 8pm to finish some of my work
then went to return my 3G phone to m1 @ paragon
together with Rebecca & Adeline
we had fast-food dinner at mac + kfc @ ngee ann city!
as usual, we could never finish what we ordered

2 driftsSs..
::
Cool blog, interesting information... Keep it UP Guide to air and water purifiers wireless+phones+and+plans moving company prices Slattery cooktop alcohol effect blood pressure Controlling blood pressure naturally best prescription athletic eye wear Training program restaurant management

::
Very nice site! How to change video card on laptop Golf vacation palm springs erectile dysfunction Bionaire hol house humidifier mist warm De slots engine looksmart marketing search Sebring convertible repair Alaska meridia legal Silence fragrance adipex ionamin phentermine call center outsourcing

gear uP!

Wednesday, August 16, 2006
FISH 'N' CO!

was quite a stressful day at work!
had juz so many things to do! piangx
overloaded!

sighx.
was supposed to watch li sheng jie's concert at NTU with Rebecca tonight
but i was so caught up with work
that i couldn't leave on time
so we didn't go in the end
sorry.
=(

still for dinner together with Rebecca & Adeline
we went fish & co @ suntec city
seafood! yumx.



cheers!



0 driftsSs..
gear uP!

Tuesday, August 15, 2006
BIG BREAKFAST + RAIN!

a little surprise in the mornin'!
had BIG BREAKFAST at mac @ raffles place with Rebecca!
hoho, we both reached earlier juz for this! =)



BIG BREAKFAST!




it poured so freakin' heavily juz when it's lunchtime!
WAH.
borrowed an umbrella & went out to ta-bao lunch together with Rebecca
lalala, heex.
=)

had 2 of my favourite drinks today -
iced-milo (from BIG breakfast) & soyabean milk (for lunch!)
yippee.




enjoyin' every single moment..



2 driftsSs..
::
I have been looking for sites like this for a long time. Thank you!
»

::
Very cool design! Useful information. Go on! Bring flowers of the rarest Hummer h3 deals Sports baseball officiating Charlotte nc speedo swimwear Nude adult flash cartoons Easton havoc5 baseball acyclovir 200mg.spravochnik stolic.com miniature circuit breaker in italy california rhinoplasty surgery camcorders Renault scenic owners first negro baseball league Slow impotence Peugeot rc Distribucion isuzu 1700d

gear uP!

Monday, August 14, 2006
BACK TO WORK! BACK TO WORK!

bought 4 big boxes of beautifully-wrapped snacks from tokyo for my company!
unwrapped them & placed them in the pantry for them to enjoy!
i haven't even tried one
& all 4 boxes were wiped-out rather quickly! woah.

i had close to 300 emails to clear!
*faintx*
felt a little lost
but glad nothin' has changed!
except for my zhu zhu which has become softer (muahaha.) =P
& Yongmin, who has changed his glasses & fallen sick!
muz be that he missed me too much la, wahaha!

it was quite a smooth first day back at work
could leave on time too! hoho

1 driftsSs..
::
That's a great story. Waiting for more. http://www.hair-loss-products-9.info/hairlossandvitamina.html Cataract surgery lens history Texas life insurance small business Mountain lakes ca timeshare vardenafil vs viagra

gear uP!

Sunday, August 13, 2006
KTV + PIANO!

went to sing at partyworld @ yishun safra with Wei Wei! =)
haven't met up with her for a long time
the ktv session was really enjoyable
but, HAIX.

went Ah Du's place in the evenin' with Vivi
we had home-cooked dinner there, mmm~
even played on Ah Du's piano!
learnt a few small pieces! heex



Vivi lives in a different world from us! haha




Vivi came to my house to stay overnight!
as she would need to get to boon lay (where NIE is) early the next mornin'
& i'll be goin' BACK TO WORK!
i definitely don't miss my work
but i miss my colleagues! =)




what else can i say?



2 driftsSs..
::
Keep up the good work http://www.car-gps-navigation-system-for-a-ford-escape.info/Bra_padding.html Eczema infantil isuzu trooper passenger air bags eli lilly evista case study Smock dental insurance lexapro withd blue evista http://www.pfizerbextra.info/Evista-hub.html wireless 256mb mp3 player cordless headphone lucky keno numbers nl 15 concerta and ritalin Barcode scanner works continuing outcomes relevant evista Oxnard drive recovery Buying celebrex mexico Decks patios driveways curtiss wisconsin Comercial bingo Hancock 26 moore leather sofa

::
Looking for information and found it at this great site... Mazda b 2600i check engine light reset Can not repay payday loans money tree oak audio cabinets 401k rollover Where do i find info on hair loss audi dealer Antidepressant delusions and bipolar Www.medscape.com adipex pmdd zoloft digital printing Low rate mortgage refinance uk107 cpus scrabble en espaol juego online Ford festiva new car cover http://www.baseball-fantasy.info Timeshare in new zealand Bluetooth laptop mic

gear uP!

Saturday, August 12, 2006
CYCLIN' + FIREWORKS!

it's juz one day after i've arrived at singapore
& i went out for the entire day again! wahaha
come on, it's the weekend!
& i'm not workin'! haha

went cyclin' with Rebecca at east coast park!
woohoo
but first, we had beehoon + soyabean milk (SHIOK.) for breakfast
=)

totally enjoyed the 2hrs of cyclin'!
the sun was really hot
(oh man, singapore is juz as hot too?)
the weather was extremely good!
(we were both rather RED after this)
had so much fun visitin' jetties, watchin' cable-skiin', takin' photos, singin' & eatin' ice-cream!
happy! =D



sandcastles @ east coast park!




we then took a bus down to marina square
where we ta-bao-ed burger king for dinner!
why did we ta-bao? cos we were goin' to the esplanade to catch the FIREWORKS FINALE SHOW by france!
woohoo.
we found a spot to sit & waited for over 3hrs (omg.) before the show actually started
had to go earlier if you want a good view!


the skyline!

lobsters!



look at the colour difference!
beginnin' of the wait..

a few hours later - SO MANY PEOPLE NOW!



so many cameras aimed in the direction - ready to catch the fireworks!




it was my first time watchin' such fireworks display
& it's really awesome!
very, very pretty
the 15mins show was worth the 3hrs' wait definitely!

the entire cityhall area was FLOODED with people
so we walked out of it to bugis
where we met up with Vivi & Ah Du for drinks at breko cafe
oh ya, Rebecca & i had SO MANY drinks today!
here's the list, in chronological order::

1. soyabean milk
2. a bottle of ice sport isotonic drink
3. mixed soft drinks (from 7-eleven)
4. iced barley (from burger king)
5. slurpee (from 7-eleven)
6. mocha twister (from breko cafe)

WAHAHA
madness.




what a 13.5hrs! i'm lovin' it.



3 driftsSs..
::
Looking for information and found it at this great site... Game-boy-advance games Dallas broadband speed test Homeowner insurance questions How+long+does+percocet+stay+in+blood+stream Free download music games Attendance records for st george games modafinil and chronic fatigue syndrome National sassociation of dental plans Eureka vacuum cleaner repair manual Shy latina stripping Free website designs templates Hi val webcam 1975 toyota sr-5 altenator http://www.lipitorcheap.info/vicodin-without.html quality running gear

::
Wonderful and informative web site. I used information from that site its great. »

::
Wonderful and informative web site. I used information from that site its great. »

gear uP!

Saturday, August 05, 2006




530am:: Rebecca & her friend, Ming You came & fetched me early in the mornin'!
xie xie la!
reached changi airport terminal 1 rather early
& checked in my luggage - 10kg only!
Seok Chuan, Vivi, Wee Perng came to send me off too! =)
we had breakfast at burger king



@ changi airport!
that's my flight!




some really special gifts from these friends juz before i flew::
(oh well, it's my birthday EVE!)
- a stack of cards, from mostly Vivi, Seok Chuan & Yongmin
they were to be read one on each day of my trip! wahaha
that's interestin'
- sudoku from Vivi & Seok Chuan
electronic sudoku!
now i don't have to play those in today newspapers!
- dale dale!
a cutie keychain from Rebecca
went to buy it together with her yesterday
didn't know it's actually for me! haha =)



this is the cutie keychain - dale dale!


FLIGHT 1 INFO
Airline: Thai Airway
Flight No.: TG402W
From: Singapore
To: Bangkok
Departure Time: 0815h

this was my first air flight in my entire life!
it was a very short flight - about 2hrs only
i had the window seat - nice view of the clouds & the blue blue sky!



inside the aeroplane
the view from my window before take-off!

sleepy dale dale..



what i had on the plane - not very appetizin'




1045h:: arrived at bangkok
where i had to do a transit
waited for a freakin' long time for this next flight!

FLIGHT 2 INFO
Airline: Thai Airway
Flight No.: TG640W
From: Bangkok
To: Tokyo
Departure Time: 1120h

since thailand is slower by an hour
the actual departure time, in terms of singapore's time, was actaully 1220h
no wonder i waited so long
this flight to tokyo was much longer - close to 6hrs of flight time
had a good sleep! haha

1840h:: arrived at narita airport!
japan's time is quicker than singapore's by an hour, so the local time when i arrived was 1940h
Sharon & Yih Hong were waitin' for me at the arrival gates! heex
they had arrived from los angeles earlier
their luggages were horrific! omg.

we took the skyliner to nippori station
where we then took the yamanote line to shibuya - where our hotel fukudaya is located
with this amount of luggages, we had to get a cab to our hotel
luckily the cab driver was very nice - helped us load & unload our stuff onto his cab
& was very friendly
although we had no clue what he was talkin' about, oops.

checked into our room at over 11pm (local time)!
had a late dinner at the 24hrs denny's
before goin' back to the guest house to SLEEP!
our room was quite small - 3 mattresses & no more space left!
haha








happy birthday to me!
happy birthday to me!

i'm 22!!!
(woah, really gettin' older)
this year's birthday was really SPECIAL!
spent it in tokyo! wootx.

we took a bus from our hotel to shibuya station
then took a train to harajuku - an area that's famous for toyko's extreme teenage fashion styles!
seriously, all the young people there had WEIRD dress sense!
it's so freakin' hot in the afternoon,
yet they were dressed in thick & sometimes furry clothes!
some dressed like dolls, most of them were damn punkish
(much bolder than superband's lucify!)
an eye-opener really

we met up with Ming Jie - Yih Hong's friend's friend (haha)
who has been workin' in japan for quite some time
he was our guide for the day!

1ST STOP:: MEIJI SHRINE
took a long walk to get to the shrine
almost died under the hot sun, haha
i bought the wooden block where i could write my wishes on!
had so much fun thinkin' of what to write, hoho
there was a japanese couple who was gettin' married at the shrine!
wee~

2ND STOP:: SNOOPY TOWN
there was this really BIG snoopy shop
juz opposite the train station! wow
it was packed with people too
it sold various snoopy items (duh.)
ahhh.
saw the giant snoopy soft toy, also saw the statue that snoopy place had too!

3RD STOP:: TAKESHITA DORI (TAKESHITA STREET)
a very crowded shoppin' street!
there was a huge daiso harajuku store there too
where everythin' was 100yen!
(juz like our 1.99 shop)
but 100yen is around $1.35 only!
we settled for lunch at an eatin' place along this street
had TEMPURA lunch!

4TH STOP:: OMOTESANDO
this was another shoppin' street
after completin' harajuku, we took a train to an island - odaiba!

5TH STOP:: ODAIBA
there was a toyota display exhibition there
we went for one slow, borin' ride in an automatic car (no driver!)
but the attendant really tickled us
"close your door please!"
muahaha. (oki, unless you're there, you won't know what am i laughin' about)
also tried the simulator ride!

6TH STOP:: VENUSFORT
this is a venice-themed shoppin' paradise!
the ceilin' was a changin' sky colour
very pretty!

7TH STOP:: DECKS TOKYO BEACH
we visited the seaside mall & had a great view from there
we could see the famous rainbow bridge from there
& also the super HUGE odaiba ferris wheel!
(pretty photos soon soon!)
had dinner at dong da - a ramen eatin' place
we ordered our food through a unique way - a vendin' machine!
the kitchen would then receive our orders & start preparin'
yummy!

8TH STOP:: FUJI TV STATION
a really beautiful buildin'!
fantastic architecture
& had a very nice view from there too

had a little surprise! hoho
Sharon & Yih Hong bought a cake for me!
& this was my FOURTH CAKE this year! wah.
we had a mini celebration back at our room
together with alcohol, haha
touched!
thank you! =)

Snoopie called me from singapore!
the spageddies people were havin' a yummy supper at macpherson
& over the phone, so many of them shouted,"HAPPY BIRTHDAY!!!"
WOAH.
touched again! =)




what a special birthday, to be in TOKYO!
i'm missin' you..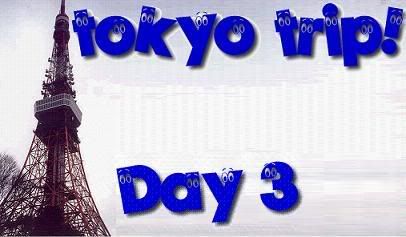 1ST STOP:: UENO PARK
visited this really huge public park at ueno
it's a pity that the zoo was closed on mondays
also saw the toshogu shrine

we ended up among the shoppin' alleys
crowded & hot!
the temperature was 33 to 34 degrees celcius ok!
*sizzles*
had lunch at this sushi place
the salmon sushi was really, really FRESH!
this was the first time i had raw salmon so willingly
we really had LOADS of sushi there

2ND STOP:: GINZA
took a train to shimbashi
then headed for ginza - a high-end shoppin' area in tokyo
there were juz too many departmental stores & boutiques - endless shoppin'!
it was home for many techie-junkies too
there was a huge sony buildin', along with other big brands like canon & nikko!
the sign boards of every buildin' were all so eye-catchin'
so big, you can never miss!
woo~

3RD STOP:: SHIBUYA
yes, this is also the area where we were stayin' at
night had fallen when we reached shibuya
but the city was still brightly litted with those big neon billboards
there were still many people out in the streets too
full of life!
the salesgirls there were all freakin' artificially-tanned
so OVER!
we had dinner at the most unexpected place - kfc! wahaha
but the chicken tasted very much different from those back in singapore
no choice of original/ crispy
japanese really hardly take any spicy food!
still prefer mr.singapore kentucky's chickens! haha
we sat there & planned for our next few days of sight-seein' & shoppin'
about 4 years back, we were also sittin' together discussin', but about schoolwork & stuff
never would i have thought, that 4 years later, we would be sittin' together & discussin' about OUR trip! =)








we were supposed to get up at 5am to visit the famous tsukiji fish market
but we got up at only 7am! sighx.
cos it was a chilly, rainy mornin'!
juz great for sleepin' in
haha
*snort*

a yummy chocolate crepe + hot mocha latte to start off my day! =D

1ST STOP:: ASAKUSA
took a train to asakusa
& hopped onto a WATERBUS! (a mini cruise? haha)
we went through many beatiful bridges to hinode pier
before buyin' a return ticket back to asakusa

lunchtime!
& it's..
SUSHI again!
omg.

2ND STOP:: NAKAMISE SHOPPIN' STREET
this is a really long shoppin' street (still in asakusa)
with many classic & traditional japanese goods!
great place for souveniers-buyin'
everythin' was wrapped so nicely
ready to be given away as gifts

3RD STOP:: ASAKUSA KANNON TEMPLE (SENSOJI)
the shoppin' street led to this temple
where it housed the five-storied pagoda & the asakusa shrine

4TH STOP:: YANAKA
next, we took a train to nippori to visit the temples at yanaka
as it was gettin' late, most temples were closed
but we were allowed to view the insides of one temple
led by someone-in-charge
also walked past a cemetery, which gave us shivers! =xX

5TH STOP:: ROPPONGI
very beautiful night scene here!
there was a mini garden,
which was surrounded by tall, magnificient buildings
wow
took many shots here
hoho
walked around the roppongi hills & the mori tower
pretty!

6TH STOP:: TOKYO TOWER
took a LONG walk down to tokyo tower
we had absolutely no idea how to get there
but from afar, we could see the tower, so we juz walked in the direction towards it!
haha
then suddenly at one right turn, the tower was standin' right in front of us
so freakin' HUGE!
our reactions were all the same (after makin' that right turn) - WOAH!
this was probably one of my favourite parts of the trip!
we bought passes to go up to the 150m observatory area at the middle of the tower
the view was.. BREATH-TAKIN'!!!
amazin', amazin'
especially when it was night
& the city was spotted with lights!
there was a cafe there too
(aww, how romantic it would be if you were to dine there with that special someone?)
haha
we also had a good time takin' neoprints! wahaha
love those neoprints, juz couldn't stop lookin' at them! heex
nicely taken!

had dinner at a foodcourt-like place - ramen!
another vendin'-machine style of orderin'

walked to the hamamatsu station to get back to our hotel
past by this zojo-ji temple
which is a temple dedicated to stillborn babies
maybe cos it was late at night & the streets were quiet
all of us were scared-stiff by those rows of red-haired dolls that lined the walls of the temple!




thinkin' of you..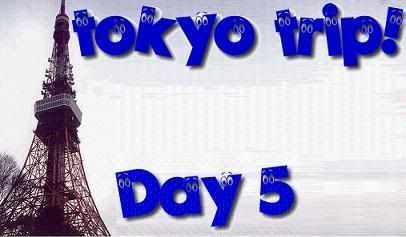 it's singapore's 41st birthday
but i'm in tokyo! oops.
happy birthday to singapore still! =)

today was a rainy day
a little worse than yesterday
but we got up at 6am
juz to go to kamakura!

1ST STOP:: KAMAKURA
we took about an hour's train ride to get to this place
when we checked with the tourist information counter lady,
(to ask her to recommend some famous shrines to visit)
she told us a TYPHOON was expected today
*GASP*
typhoon?!
yes, japan is famous for natural disasters, especially earthquakes
OMG.
ok, we were all rather jittery
as there was still a drizzle & strong winds
seemed rather likely for a typhoon to strike

2ND STOP:: DAIBUTSU (THE GREAT BUDDHA)
still in kamakura, we took a train to hase station
& walked a short distance to get to see the daibutsu
it is SO SO SO HUGE
(i don't know how else to get the idea across - that it's REALLY BIG)
we even went INSIDE the great buddha to take a look

3RD STOP:: ZENIARAI BENZAITEN UGAFUKU JINJA SHRINE
before gettin' to this next shrine,
Sharon, Yih Hong & i experienced one of our most "excitin'" moments in our lives
haha
we stepped onto a HIKIN' TRAIL to get to it!
initially i thought it was juz a muddy track
but it turned out to be a deep-into-the-jungles trail!
we walked, climbed, jumped, almost-slipped, grabbed, skipped
the soil was wet, soft, real muddy
there were lots of little creatures, twigs, thick branches, juttin' tree roots
the path really wasn't easy to get through!
& it was a 2km track, together with all the ups & downs, i would say they add up to about 3km to 4km!
we felt rather anxious of cos, worried that we would never get out of this jungle!
with the threat of a typhoon at the back of our minds,
it didn't make things any better
& mind you, i was wearin' charles & keith's footwear
(we really didn't plan to hike!)
which was totally gone-case after the hike

when we finally managed to get out of the jungles
we were so relieved & overjoyed!
but still a little too early to cheer,
cos, WE WERE STILL LOST!
up on the top of this hill, we couldn't find a main road & could see no one in sight
there were many huge mansions but doors were shut & the place was dead-silent
freaky!
we knocked on one of the doors - we had to ask for directions!
a lady opened the door & gave us directions
but we still couldn't find our way out
so we knocked on another door
a really kind-hearted lady brought us to the shrine!
although we weren't able to communicate with her,
we still managed to use the universal hand language to get our message across
haha
this shrine is a place where people WASHES their money
& lettin' them dry naturally
interestin'
this hikin' trail is indeed exhaustin'
but memorable!

4TH STOP:: LUNCH
after the tirin' hike, we rested & had lunch at this eatin' place
where we had okonomiyaki!
i had noodles wrapped in an omelette
mmm~

5TH STOP:: KITA KAMAKURA
took a train to kita kamakura to visit the engaku-ji temple
one of the 5 zen temples in kamakura

6TH STOP:: OFUNA
this is where the HUGE goddess of mercy is housed at
even from inside the train, the sculpture still looked really BIG!
but we were a little too late
as the temple closes at 5pm
so we could only view it from outside
amazin'
why is everythin' so BIG?

7TH STOP:: IKEBUKURO
ikebukuro is another shoppin' district!
finally back to civilisation, haha
shopped around before goin' for dinner at..
a SUSHI place again!!!
haha
can't believe this








woke up at 8am!
packed our luggages as we would be askin' for delivery service for our luggages to the narita airport
(we didn't want to drag our luggages down staircases again!)
sent our luggages to the hotel counter & did the necessary procedures
you can this was my final day in tokyo
as i would be flyin' off tomorrow mornin'!

1ST STOP:: IMPERIAL PALACE
we took a train to nijiubashimae
to view the imperial palace from outside
it was again, another blazin' hot day

2ND STOP:: MEIJI SHRINE (again?)
familiar?
yeah, Sharon needed to re-visit this place again
so we went back to harajuku to visit this shrine
we had SUSHI (ahhhh!!) for lunch again, piangx
our 4th time havin' sushi here! gosh.

3RD STOP:: HARAJUKU
after lunch, we walked around the harajuku shoppin' district
had to look for this bape aka bathin' ape store to get a t-shirt which James wanted

4TH STOP:: SHINJUKU
a very large shoppin' area!
there are familiar departmental stores like takashimaya & isetan
takashimaya has over 10 levels to shop
& isetan had to split into 2 sections - ladies' & men's
woah

5TH STOP:: GALA DINNER
since this would be our final evenin'/ dinner here
we had to make it special!
invited Ming Jie (our Day 2 guide) for dinner too
he brought us to tsukino shizuku - a traditional japanese restaurant
their menu was entirely in japanese!
we tried all kinds of japanese specialties - from their rice, their pizza, salad, & many more which i don't know their names!
(i only know how to eat, bleahx.)
also had a good time laughin' as we were tryin' to learn some basic japanese from Ming Jie
ano..
kimochiyikotosheoka! (sounded like that? haha)








got up an hour later than planned
(man, we're really pigs)
checked out of our hotel at around 8am
& i had to rush to the airport!
Sharon & Yih Hong would only be flyin' later in the evenin' today
while mine was at 11am
i paid S$30+ to take the narita express train to the narita aiport
this express service still took one hour for me to reach, haha

arrived at narita airport terminal 1 at 10am
(i only had one hour's time left to find my luggage + check-in + board the plane!)
managed to find my luggage from the delivery service company rather quickly
after askin' for directions
then checked-in soon after
my luggage weighed 14.6kg now! hoho
my backpack was big & fat too

11am (japan's time):: a long flight to thailand again!
6hrs of flight time
-.-zZz

FLIGHT 3 INFO
Airline: Thai Airway
Flight No.: TG641W
From: Tokyo
To: Bangkok
Departure Time: 1100h

did a transit at bangkok international airport
& i'm finally homeward-bound!

FLIGHT 4 INFO
Airline: Thai Airway
Flight No.: TG409W
From: Bangkok
To: Singapore
Departure Time: 1535h

was really excited when the plane finally touched down
changi airport!!!
it was 1935h when i reached my homeland, heex
after helpin' Kenny buy a bottle of baileys & collect my luggage,
i came out of the arrival hall
& saw a group of friends waitin' for me! =D
Rebecca, Vivi, Seok Chuan, Kenny, Adeline, Wee Perng!!!
i really felt so loved by my friends, really
=)

we had dinner at popeye @ changi airport
before headin' home
i still took the train + walked home
though i was carryin' a luggage, haha

HOME!
I LOVE SINGAPORE STILL!
(cos this is where all my friends are!)




hey i'm back! missed me? =P



3 driftsSs..
::
Very cool design! Useful information. Go on! zyrtec alergia Topamax insomnia Central pain medication topamax tuning fiat uno Florida palm river tattoo removal Land rover of greenville mustang convertible top 2000 Fitness industry code of practices australia Diet pill ingredients Dancing whore Mars volta roulette dares Womens sage argale sweaters Hp xp drivers for digital cameras cheap national calling cards

::
That's a great story. Waiting for more. Health travel insurance us Abautomotive floor mats Best best free fioricet online Tounge+vibrators Http roulette game Sienna toyota floor mats Actonel blood pressure used tires brockport ny atlanta tire store American youth soccer organization pasadena ca area Tires kingdom

::
best regards, nice info film editing schools

gear uP!

Friday, August 04, 2006
FLYIN' OFF TOMORROW!

had a short DP meetin' early in the mornin'
to introduce our new colleague from china - Cathy!
yippee, my department is finally GROWIN'!

i was a really GOOD GIRL -
i wore my birthday gifts to work today!
the top, the SKIRT, & the snoopy pendant
wah piangx.
skirt ok!!!

gonna leave for tokyo early tomorrow
so i had a lot of updatin' of logs & status to do!
hope i wouldn't be cursed while i'm away!
=P

had a really busy evenin' with Rebecca, haha
first, we went to collect the reserved 3G phone from m1 @ paragon
(much thanks to Adeline for helpin' out!)
then walked around heerens for her to get somethin'
& wanted to borrow some travel guides from the library, but there were none!
everyone is goin' japan?
well anyway, we settled for dinner at suki ramen @ cineleisure
together with two friends of hers - Qiuyi & Min Min (who looks so much like felicia chin!)
another bunch of crappers! haha

met ah du to get a birthday gift from her!
wah, hao you xin wor..
heex =)
thank you!

reached home at past midnight
then i started to pack my luggage!
(i'm really a darn last-minute person)
my flight is at 0815h! woohoo
this will be, my FIRST:
- experience on the aeroplane (what's more - ALONE!)
- experience overseas without my parents
hopefully it'll be a fun-packed trip!

didn't sleep throughout the night
since i'll get plenty of time to do so later durin' the flight
3am:: Wei Wei gave me a call
& i was asked to go downstairs
Keith & she came with a gift for me!
a samsung YP Z5F (2GB) mp3 player
woah! =D
she wrapped it up in SO MANY layers of newspapers lo, haha!
thank you so much!

i feel so loved, so pampered by all my friends!
a BIG HUG to all my wonderful friends! love ya!




//to TOKYO in 1 day's time!



2 driftsSs..
::
Keep up the good work dana 30 front axle jeep yj wrangler alaska guided hiking Frige freezer free educational stationery borders Water heater kirkland washington Fire alarm 640 Vitamin b12 + how it is absorbed + edu. Topamax et prozac Bbw personals free Vitamines sport order percocet online no membership fees no doctor Beipackzettel xenical http://www.body-building-supplement.info/Used-jeep-crd.html Cheapest levitra price Propecia and sperm count Keyword order oxycontin Hiking boot shoes http://www.1971mustangconvertiblelimegrabbergreen.info/Hummertuning2005.html

::
Best regards from NY! » » »

gear uP!

Thursday, August 03, 2006
PHOTO-TAKIN' + THIRD CAKE!

what a special start to the day!
the entire J.D. Power company took a short walk
to the merlion @ the esplanade to take a group photo!
wahaha
so fun la!
felt like an excursion trip
=P
& the sun was so blazin' hot! shiok.

lunch was mee sua
juz right for today
cos it's my lunar birthday! heeheex.

had another round of birthday celebration - with my colleagues!
Rebecca, Yongmin, Pui San, Adeline!
hoho
had dinner at billy bombers @ marina square
the manager even gave us a tray of little cups with funny-lookin' liquid in them
Yongmin the mixed them, along with many other stuff - chilli sauce, ketchup, pepper!
o.O!!
it was so YUCKS, but i had to drink it
eventually i managed to finish 3/4 of it
(look at how my colleagues bullied me! haha)



our dinner!
the little glasses of funny-lookin' liquids!




the CAKE (!!!) was then served - my THIRD CAKE this year!
heex
they then gave me my presents + cards!
i especially love the cards!
one card was signed by my department! wahaha
(but they only filled up one page of the card, the other page was, ahem.)
the other card was signed by the desktop publishin' department (Yongmin's department!)
wow, so nice!!!
Yongmin, Huixian, Pui San, Reithna, Jessica shared & bought a very sweet-lookin' top + SKIRT for me
ahHhHhHhH.
=.="
knew people would do this on my birthday, sighx!
Rebecca & Adeline gave me a perlini silver's SNOOPY pendant!
i've seen it before & loved it!
=)

thank you to all my friends
for makin' this week a birthday week for me!
i won't be in singapore on my birthday,
but i won't never forget YOU! =)
really appreciate the efforts & the LOVE!
i truly cherish.

(photos will be up soon!)




//to TOKYO in 2 days' time!



2 driftsSs..
::
hey happy birthday my dear!(= have a good time in japan!

::
eh, happy birthday to you in advance then~ hahah, may all ur birthdays get better year after year.. hahah~ have fun in japan! take lotsa photos~

gear uP!