This page is best viewed with Internet Explorer 5.0 & above
1024 x 768 resolution
driftin'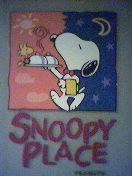 my friendster profile

graduated from NUS in may 2006 with a bachelor of science degree. joined J.D. Power Asia Pacific since 22 may 2006 as a research associate in the data processing department. am a qualified driver who hardly has the chance to drive. loves singin' a whole lot, cos music is so important in my life. catching movies, blogging, cycling and donating blood bring joy to me too. this blog has been set up on 7 nov 2002, with loads of memories ever since.



Bolt
-14 dec 2008-
jurong point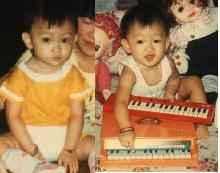 qing
06 august 1984, monday
24+ years old
female
chinese
qualified driver since 15 aug 2005
one-star paddler
windsurfin' proficiency level 1
regular blood donor
leo/rat
O+ blood group
choa chu kang,sg




i_miss_snoopy@yahoo.com.sg




smurffygoh@hotmail.com




bukit view pri
instrumental ensemble
recorder
1991-1996

bukit panjang govt high
military band
percussion
1997-2000

national jc
symphonic band
percussion
2001-2002

NUS
2003-2006




metro @ paragon
salesgirl
07 dec 2000-31 dec 2000
(25 days)

snoopy place @ ps
server
10 dec 2002-12 jul 2004
(1 yr 7 mths 2 days)

propnex property
phone assistant
23 dec 2002-20 jan 2003
(28 days)

viet lang @ chijmes
server
21 jul 2004-24 jul 2004
(4 days)

green brew @ singtel recreation club
customer service crew
30 aug 2004-04 nov 2005
(1 yr 2 mths 5 days)

munchie monkey cafe @ yusof ishak house
customer service crew
senior human resource executive
(crew leader)
09 oct 2004-03 may 2006
(1 yr 6 mths 24 days)

spageddies @ paragon
customer service crew
05 dec 2005-09 dec 2007
(2 yrs 4 days)

J.D. Power Asia Pacific @ shenton way
research associate (data processing)
22 may 2006-current




S.H.E
jay chou
stefanie sun
fish leong
lin jun jie
fan wei qi



music
singing
blogging
movies
cycling
jogging
badminton
sea sports
donating blood
mahjong
travelling




(1) so close
(2) mr. & mrs.smith
(3) finding nemo
(4) love actually
(5) step up




eggs
curry
fried beehoon
iced milk tea
yuan yang
soyabean milk
iced-blended mocha
iced-milo
iced peach tea
chocolates







---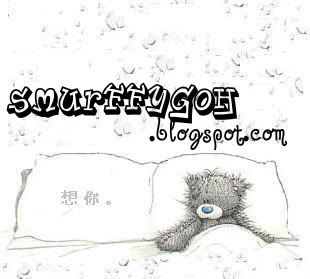 爱.简单

Monday, September 11, 2006
天空灰的像哭过
离开你以后 并没有更自由
酸酸的空气 嗅出我们的距离
一幕椎心的结局 像呼吸般无法停息
抽屉泛黄的日记 榨干了回忆
那笑容是夏季
你我的过去 被顺时针的忘记
缺氧过后的爱情
粗心的眼泪是多余
我知道你我都没有错
只是忘了怎么退后
信誓旦旦给的承诺
全被时间扑了空
我知道我们都没有错
只是分手会比较好过
最美的爱情回忆里带去



i know, i've let you down.



0 driftsSs..
gear uP!

Sunday, September 10, 2006
SEVEN..

the followin' is from Reithna
(hey, i still read your blog!)

7 random facts about me::
1) i love to sing, SING, SING!
2) i'm crazy over donatin' blood too. (18 times to date) =xX
3) i blog almost everyday (ever since 7 nov 2002)
4) i prefer buses to trains
5) i've been on air flights twice only, & for both times - ALONE!
6) i love bein' in the sun
7) i was a drummer!
(for more random facts about me, refer to 14 may 2005 entry)

7 Favourite music at the moment::
(this is not goin' to be easy! i have so many favourite songs!)
1) 周杰伦 - 白色风车
2) 陶吉吉 - 自导自演的悲剧
3) Tank - 给我你的爱
4) 江美琪 & 光良 - 对你有感觉
5) 蔡依琳 - 开场白
6) Daniel Powter - Bad Day
7) Augustana - Boston

7 Things i like most::
(things? muz they be tangible?)
1) music, music, music
2) ktv
3) soyabean milk
4) chocolates
5) iced milo
6) eggs
7) snoopy place restaurant

7 things i say most::
1) 屁啊!!!
2) 要不要去吃冰?
3) 几时去吃冰?
4) when wanna go K?
5) alamak!
6) eh, don't like that lei
7) anythin' la

7 lucky ppl to do this::
anyone la


worked at spageddies
a really, really SLOW day
yawnx.
not easy draggin' my hurtin' foot around

gonna start postin' some photos from the tokyo trip!
look what i've found in tokyo::



MY SNOOPY DARLIN'!!!



WAHAHA.



0 driftsSs..
gear uP!

Saturday, September 09, 2006
LAST, LAST FRIDAY'S DINNER + CYCLIN' (AGAIN!)!

outdated photos! (from 1 sep, fri!)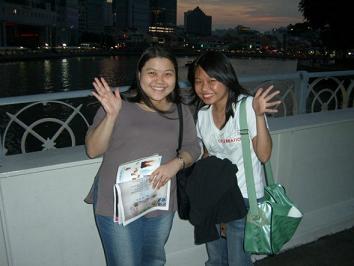 Pui San, Rebecca!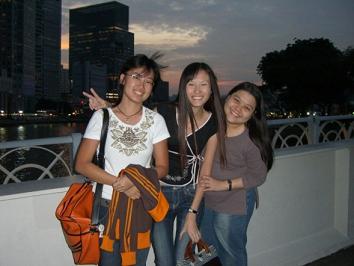 me,
Adeline, Pui San
!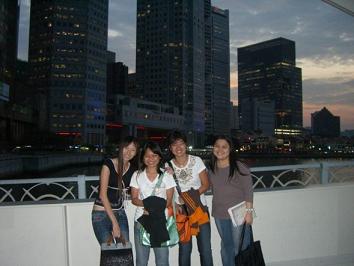 all of us!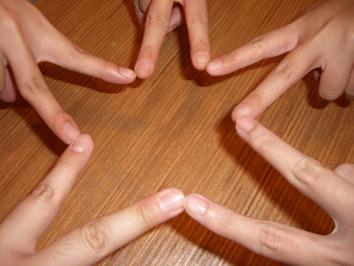 hey, whose fingers are those?
becky
& me!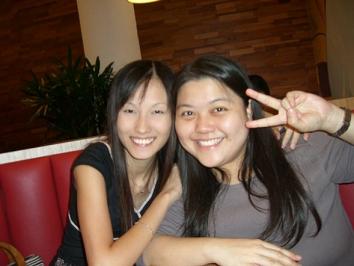 bai xiao jie & PS!



no peepin'!




ok, back to today!
limped my way to parkway parade to meet Seok Chuan
(i'll need to revisit the doctor soon!)
we went CYCLIN'!
woo, i've been goin' east coast park to cycle almost on a weekly basis
that's really nice
to get out & get some sun!

& i could cycle with juz my right hand on the handle!
it was last week when i tried this
& tried again today, which i could do fairly well
wee! =)
now i don't have to fret over glasses slidin' down or sleeves rollin' down
heh.



what a windy day!
lalala..

gotta hang my slipper cos it was hurtin' my left foot even more!


we then had dinner at fish & co @ parkway parade
then desserts @ swenson's
we witnessed a really ugly scene -
we were at the head of the queue to swenson's
& we saw a family leavin', so there was an empty booth table
after the table was cleared,
we were waitin' for the host to lead us to that table
but before the host attended to us,
2 girls (around our age) overtook the entire queue
& sat down at that table
(as if there were their names on it)
the host, or rather, none of the staff realised this
yucks.
totally disgusted



pretty fish & co!




shopped around after dinner
before takin' a long bus ride home


Seok Chuan

& me!




singapore is really small la
i bump into friends so frequently - especially when i'm in town!
saw Ryan, Jolene, Mabel recently havin' dinner together,
saw Wen Zhan at watson's durin' lunchtime,
saw Samuel yesterday while goin' to marina square
& today? Geok Ling! haha
it's a small world after all..

0 driftsSs..
gear uP!

Friday, September 08, 2006
SCHOOL/ WORK?

it's friday!
my left foot hurt so much when i'm wearin' flat-sole shoes!
(but i felt no pain while wearin' shoes with heels, how strange)
-ouch-
limpin'.

Adeline was on urgent leave today
you certainly need a break, girl, take care! =)

Yongmin treated Rebecca & me to a korean lunch
&.. NEW ZEALAND NATURAL drinks!!!
wah!
how i miss NUS' outlet - which we used to go every now & then
yumx.

attended an orientation course on india - understandin' the country at large & its automotives industry
felt like i was back in a lecture theatre, haha
was introduced to a little of INDEXING - a process after data has been cleaned
it's basically factor analysis
woo, interestin'
at least these are REAL data that has significant impact on people
& the results we produce have to make sense!
unlike in schools, nothin' matters anyway
if i were to choose - school or work
i would still choose WORK!
haha
it is not as if work is without any stress
(i'm beginnin' to feel the heat!)
but i muz say, i've learnt so much at work
regardless if it's part-time or full-time jobs
i've learnt various skills!
my part-time jobs have always been in the F&B service industry - customer service is the most valuable skill!
& this full-time job - doin' data processin' has made me so proficient in excel & SPSS!
these skills are practical & even technical
skills learnt in schools are more theoretical
(hardly apply them)

biggest lesson learnt:: LEARN FROM MISTAKES!

went imperial treasure with Rebecca for dinner!
=)

i'm TOTALLY BROKE!
never been so penniless in my life before
all thanks to my insurance premiums
sucked me dry
when is 15th comin'?!

0 driftsSs..
gear uP!

Thursday, September 07, 2006
HMM.

today is a good day finally! =)
could relax a little, nothin' urgent on hand
lunch-ed out with Rebecca, Adeline, Wei Leng, Yongmin at the bbq seafood place!

didn't OT today! wahaha
went raffles city with Rebecca & Yongmin
tried FRIED mars bar! interestin', haha

haven't done any album reviews for long time!
it's time for this one..

周杰伦 - 依然范特西
Track01:: 夜的第七章
Rating:: 7.5/10
Review:: those who have heard 陶子's butterfly before, will find this familiar! the base melody is exactly the same & i kidda like it! has resemblance with 布拉格广场 too; a female singin' voice along with Jay's rappin'.
Fave line:: 每个人为不同的理由戴着面具说谎

Track02:: 听妈妈的话
Rating:: 8/10
Review:: another rappy song, but i love the piano intro + melody! very easy-listenin'. sweet. very good lyrics too, regardin' mummy's love of cos. Jay really writes songs for everyone in his family! his dad, his grandma & now his mum!
Fave line:: 想快快长大 才能保护她

Track03:: 千里之外
Rating:: 6.5/10
Review:: this is the 主打歌, but it doesn't appeal to me as much as the other tracks. the beginnin' is so similar to 七里香, maybe cos both of them are 中国风 kind of songs. & i'm not a big fan of 费玉清 anyway, what a weird combination!
Fave line:: 时间被安排 演一场意外

Track04:: 本草纲目
Rating:: 5/10
Review:: the rock-est song in this album? not my cup of tea! i have no idea what he's singin'! haha
Fave line:: -

Track05:: 退后
Rating:: 9/10
Review:: this is definitely goin' to be a K-hit! it's very 借口 & 搁浅 style. nice to sing, very standard sappy love song. needless to say, will be listenin' to it very often!
Fave line:: 我知道我们都没有错 只是放手会比较好过

Track06:: 红模仿
Rating:: 7.5/10
Review:: nice intro! another rappy song, but i like the general feel of the song. could hear many different instruments comin' together, makin' this song kidda special!
Fave line:: 因为我选择了这样自己

Track07:: 心雨
Rating:: 9/10
Review:: ah, another favourite track! i like the lyrics - 很有画面感!
Fave line:: 心里的雨倾盆的下 却始终淋不到她

Track08:: 白色风车
Rating:: 9.5/10
Review:: this song beats track5 & 7! fantastic lyrics, fantastic melody. BEST! the beginnin' sounds a little like 一路向北. anyway, it's MY kind of song! =)
Fave lines:: 我们走到这就好 因为我不想太快走完这幸福
但爱你并不孤独 不会再让你哭
我陪你走到最后 能不能不要回头
你说我若一个人会比较自由
我不懂你说什么 反正不会松手
因为我在等待永远

Track09:: 迷迭香
Rating:: 7/10
Review:: this song has a tango feel to it. not the usual jay-style kind of song. quite refreshin'!
Fave line:: 受不了 你随风飘扬的笑

Track10:: 菊花台
Rating:: 5.5/10
Review:: for a moment i thought this wasn't sung by him, cos it doesn't sound like him! but i guess it's juz a different style. too slow for me!
Fave line:: 苍白的月弯弯勾出过往




captivated..



1 driftsSs..
::
why da first song gif so little?.nice mahh..

gear uP!

Wednesday, September 06, 2006
zZz.

OT-ed again & i was finally done with THAT
whew
really grateful to my senior manager, Syam
without him, i would never have been able to do it
he's so nice, so nice! =)
& the bottomline:: i'm freakin' careless la
*pengx*

had a late dinner at mac with Adeline!

0 driftsSs..
gear uP!

Tuesday, September 05, 2006
CLICK-LESS.

another not-so-smooth day at work
had to OT
when would this be done?!
dyin'.

so sad,
i've missed click.
=(

0 driftsSs..
gear uP!

Monday, September 04, 2006
BURST THE BUBBLES!

today's TODAY newspaper was wrapped in a protective air bubbles cover
(is there a proper name for it?)
thanks to hsbc's advertisement
everyone was addicted to burstin' the bubbles, haha

work.
prefer not to say anythin' about it
wasn't very smooth, that's all

my insurance premiums are due
& i'm goin' broke

very lazy to take my pills
6 pills each time?! 3 times a day?!
eeks.

0 driftsSs..
gear uP!

Sunday, September 03, 2006
PHOTOSHOOT!

it's a FAMILY day!
haha
went IMM to do a photoshoot
wore my graduation gown & did solo shoots
did some poses with my sister
then a few shots with my family =)
my parents then shot in weddin' attire! wahaha
had never seen my mum in weddin' gown before, hoho



my lovin' parents!




had lunch together before my sis left for work
my mum wanted to see her korean idol - kwon sang woo
who's comin' to IMM for the openin' of the face shop
hell, there were LOTS of crazy fans!
(most of them were aunties)
my god. i was almost flattened
couldn't believe Huiyi & Felicia came to watch this guy too
=.="
we waited for over 2hrs
& i think i only saw 2 seconds of him?
-.-zZz

my foot was seriously killin' me
went to see a doctor
the consultation was less than 5mins
& he gave me 3 kinds of pills - relief for inflammation (???), mefenamic acid to reduce pain, painkillers
-.-zZz
wonder if they'll help
he wanted to give me MC for tomorrow
but i told him it wasn't necessary
foolish? haha
was told to visit him again if it still doesn't get well after 3 days
x-ray!


pills, pills, pills.




drove without my p-plate today!
standard was much better! heex.

2 driftsSs..
::
OMFG.do u blog EVERYDAY?.

qing::
haha, what's wrong with that?

gear uP!

Saturday, September 02, 2006
CYCLIN'-SIAO!


today was a CYCLIN' day!
met up with Rebecca for breakfast at bedok hawker centre
then we went east coast park!
the weather was SO good again, heex
there was also a triathlon goin' on
woo

dinner was mac!
haha
never sick of it

then, it was CYCLIN' again!
the traffic was so heavy now
the bicycles shop almost ran out of bikes! woah
all in all, we cycled for about 4 solid hours!

watched a really LOUD 'live' jammin' concert
before havin' waffles at gelare!
=)



the jam concert!




butt-ache, legs-ache
hurt my left foot last sat at spags too
(i think i twisted a nerve? haha)
it's still not ok
hmmx

0 driftsSs..
gear uP!

Friday, September 01, 2006
FREEZIN' FRIDAY.

was quite a relaxin' day! =)
schedule gettin' manageable
it's been so freakin' freezin' in the office these days
brrr..

had dinner with Rebecca, Adeline, Pui San at da pai dang!
then mango snow ice after that!
standard la

it's official - i haven't watched any movie for 2 months!!!

0 driftsSs..
gear uP!